Media <Back to EPK
Clips from Wendell playing live on stage.
On Stage with Wendell:
It's Bill Candy on acoustic guitar and vocals, Bill Brennan on drums accordion and vocals, and David Woodhead on bass and vocals.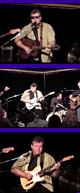 The War is Over...
Watch Wendell demo the new Virtual Guitar collaboration from Gibson and Fender.
Twang
Sustain
Twang
Sustain